FemOptima ™ Dietary supplement
Helps your body make and balance your won hormones and provides natural support during midlife changes
FemOptima ™ is a formula for women who experienced premenstrual syndrome (PMS) and/or perimenopausal symptoms. FemOptima provides nutritional support to help ease into menopause naturally, and can help reduce PMS and perimenopausal symptoms such as anxiety, dry skin, fatigue, feelings of bloating, headaches, joint pain, heart palpitations, hot flashes, insomnia, irritability, decreased interest in sex, loss of concertration, mood swings, night sweats, reduced stamina, urinary incontinence, vaginal dryness and itching, and wight gain .
FemOptima ™ contains botanical extracts that help balance key female hormones such as estrogen, progesterone and prolactin. The unique and proprietary combination of insoflvones, OPC and Botanical extracts in FemOptima gives a woman optimum health results.
Suggested Use: As a dietary supplement for adults, take 2 capsules in the morning on an empty stomach for a six months cycle. Stop the dose for ten days and then repeat the cycle.
Other Ingredients: Microcrystalline Cellulose, Magnesium Stearate and Gelatin.
Warnings: Keep out of reach of children.
Storage: Store in cool, dry place at a temperatureof 15-30 C (59-86 F). Close tightly after use.
Product of Greenwood Biotech USA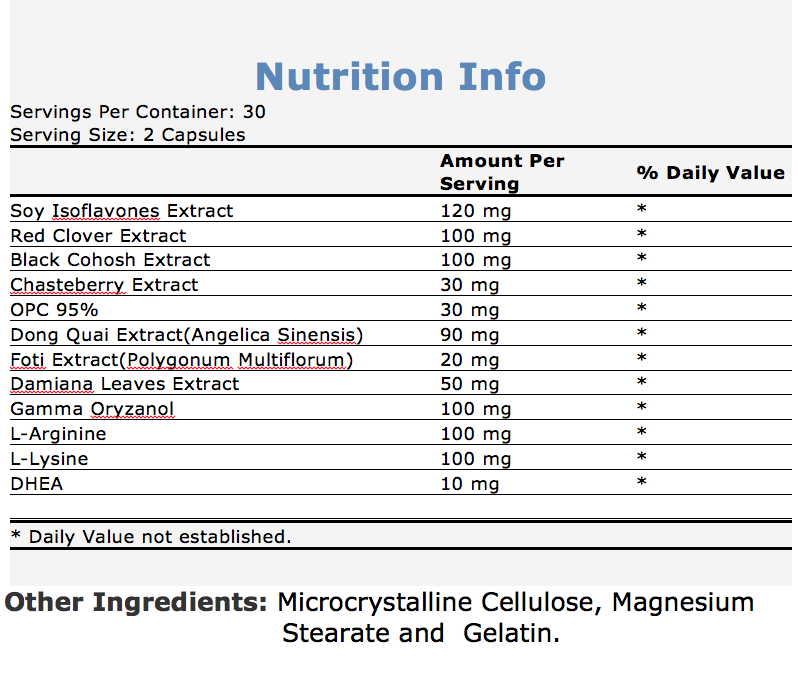 This product is not intended to diagnose, treat, cure, or prevent any disease. The above statements have not been evaluated by the Food and Drug Administration.