JointLubri III
Promotes healthy, flexible joints. Supports the structure of bone, cartilage, and other body tissues.
Nearly 400 million people worldwide live with chronic bone and joint problems, according to the World Health Organization. One of the more prevalent joint diseases is arthritis, which in combination with related conditions, affects an estimated 43 million Americans, according to the Centers for Disease Control and Prevention (CDC).
Arthritis is generally an acute inflammation of a joint and can be broken down into two categories–inflammatory and degenerative. The most common form of arthritis is osteoarthritis, or degenerative joint disease (DJD). By age forty, 90% of the population will have some degree of degenerative joint disease. A feeling of stiffness in the joints in the morning is a typical sign of arthritis.   Knees, hips, hands, fingers, lower back, and neck are the joints most commonly affected.
Jointlubri III is specially formulated by combining the powerful healthy-joint compounds of Glucosamine and Chondroitin Sulfates, Cartilage collagen, boswellin (Boswellia Serrata Extract) and Coral Calcium that help strengthen and lubricate joints, and supports the structure of bone, cartilage, skin, and other body tissues.
Glucosamine sulfate is produced naturally in the body, and is a simple molecule composed of glucose and amines (nitrogen and hydrogen molecules). The inability for some of us to produce glucosamine or the reduced production generally associated with age may be a leading factor in the development of osteoarthritis. Studies have shown that patients who take non-steroidal anti-inflammatory drugs (NSAIDs) felt better initially, but after three to six weeks, the group on glucosamine sulfate felt better.
Chondroitin sulfate consists of repeating chains of molecules called mucopolysaccharides. It is a major constituent of cartilage, providing structure, holding water and nutrients, and allowing other molecules to move through cartilage. Animal studies indicate that chondroitin sulfate can promote healing of bone.
Boswellia has been discovered that this herb contains certain substances called boswellic acids, which are known to have anti-inflammatory properties; therefore, Boswellia is often suggested as a treatment for bursitis, osteoarthritis, rheumatoid arthritis. Research shows that this herb may also protect cartilage from damage.
Collagen Bones with sufficient collagen composition are strong and elastic. Bones with low level of collagen composition are brittle wood that are easily broken. Joint cartilage is 95% built with collagen. The more collagen you have in the joints the less chance you will develop osteoarthritis.
Direction: As a dietary supplement for adults, take 2 tablets each time, 1-2 times a day, preferably after meals.
Packaging: 90 Tablets per bottle.
Product of Greenwood Biotech, LLC USA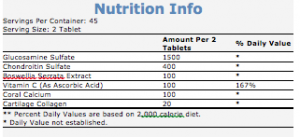 This product is not intended to diagnose, treat, cure, or prevent any disease. The above statements have not been evaluated by the Food and Drug Administration.